Playful Letterpress Portfolio Jackie Hefty
more to come...
Printmaking Collographs: Intro to Mixed Media Printmaking
Jackie Hefty
Collographs incorporate aspects of relief and intaglio printmaking, additive and subtractive methods of working, all in an intriguing mixed media approach to plate-making. Everyday objects (cardboard, lace, washers, yarn) are transformed into textural elements enhancing your unique prints. Take an individualized approach in what can be either objective or non-objective subject matter. Concentrating on water based printing. June more info soon...

Oct 2013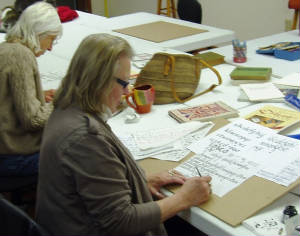 Calligraphy students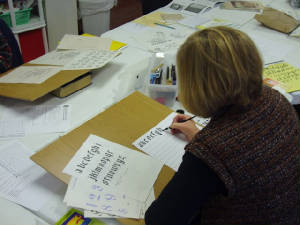 Calligraphy students
Calligraphy: the art of written forms Jackie Hefty
Working with pen/brush,ink, and paper, learn the basics of several lettering styles. Hand-letter a favorite poem or quotation for gifts, create unique greeting cards, and more. Minimal supplies are needed and you can continue your learning at home. Tues Oct 1 thru Nov 5 6 - 9 pm. Held in conjunction with UW-Continuing Studies. Registration is through UW-Continuing Studies, please use link below.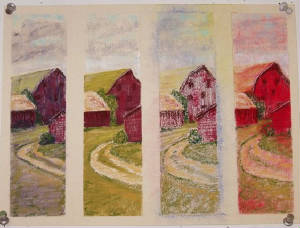 Pastel Interpretations student work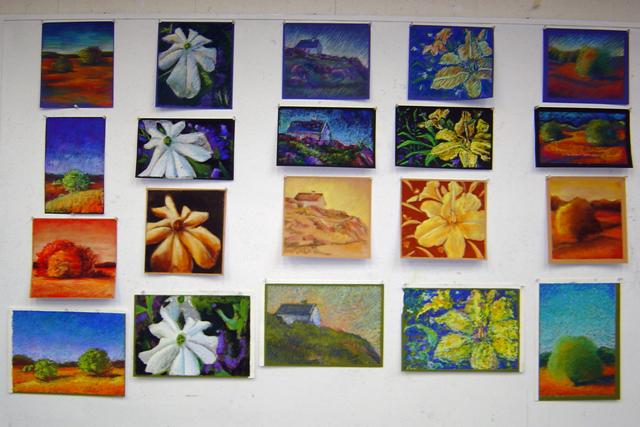 Pastel Interpretations student works
More Pastel Interpretations Kay Brathol-Hostvet
New projects for returning students! Soft pastel is a very adaptable medium and perfect for learning different painting techniques. In this workshop, you'll do four different interpretations from the same reference photo. Each work in your series will be quite unlike the others; you will be using different papers and styles of application, learning which styles and techniques work best for you. A repeatable workshop for beginner to advanced levels. Beginners to the soft pastel medium should have reasonably good drawing skills. Sun, Oct 6, 10-5 $100/$10 materials
More Pastel Interpretations Supply List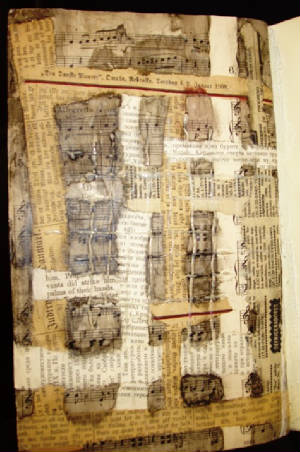 artist book samples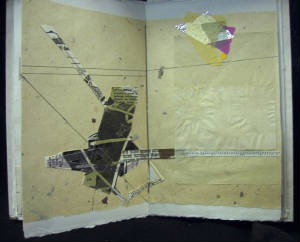 artist book samples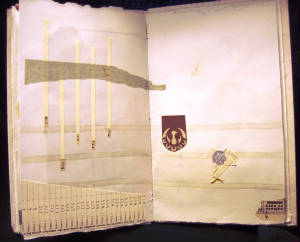 artist books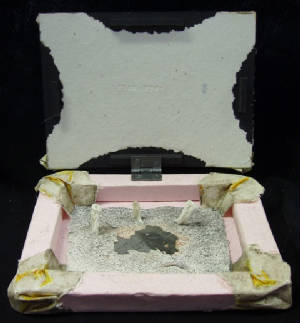 artist books
Artist's Books I
Jackie Hefty
Explore the many facets of Artists' Books. Utilize your personal strengths in making a visual work of art and stretch your working abilities with book structures as art. Create unique works incorporating a theme or message of your choice, not just blank pages. Most works will be one-of-a-kind pieces, utilizing your personal favorites or individual choices for text and structure, assistance provided. A small edition is possible as an alternative. Week one we will review various book structure options, strategize and make a dummy. Week two,come with individualized materials to get started and week three and four will be concentrated work time with assistance as necessary. Class size is limited. Thurs Oct 10, 17, 24, 31 1 - 4 $225/$5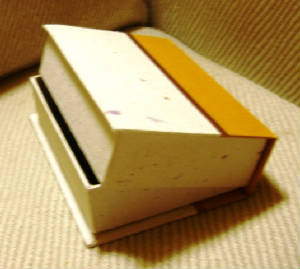 Drop Spine Box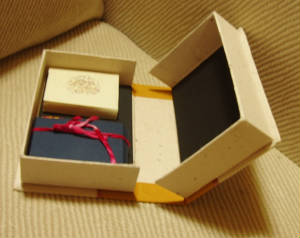 Drop Spine Box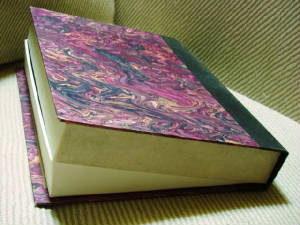 Drop Spine Box
Box Making: Clam Shell Box / Drop Spine Box Jackie Hefty
Asked for by members of several bookmaking workshops, here it is, a workshop to make a drop spine box. Based on using a conventional size of 8 1/2 x 11", we will create a housing for papers, books and treasures. Adjustments for various sizes will be discussed for individualized future projects. A good metal ruler, a sharp utility knife, a cutting matt and a clear head will be most important. Participants will have the opportunity to customize the covers with commercially available materials or personalized, hand decorated options. Fri Oct 11/18 1- 4:30 $80/$20 materials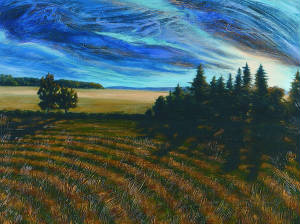 Kay Brathol-Hostvet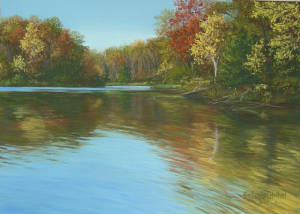 Kay Brathol-Hostvet
Painting the Autumn Landscape in Acrylic
Kay Brathol-Hostvet
In this fast-paced, one-day workshop you will focus on painting the landscape from your own photographs "a la prima" style-quickly, loosely, and expressively-without the use of multiple glazes or extensive blending. The direct approach is both visual and intuitive and encourages great personal expression. Working in acrylic has the benefits of little odor, water clean-up, and quick drying which allows for almost immediate changes. This workshop is for all skill levels, but previous painting experience in any medium is very helpful.
Sat, Oct 12, 9-5 $105/$10
Supply List Autumn Landscape in Acrylic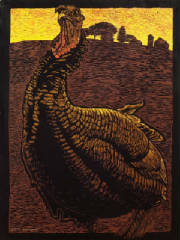 Turkey Promenade by S.V. Medaris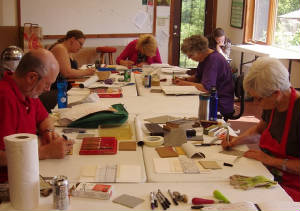 Class work and demos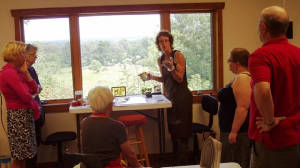 Class work and demos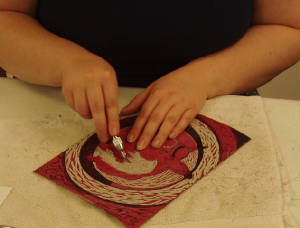 Intro to Block Cutting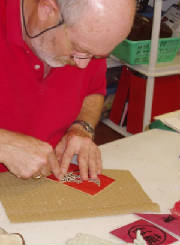 Intro to Block Cutting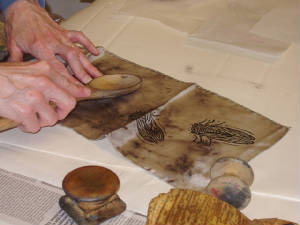 Printing the block on paper, silk scarf or t-shirt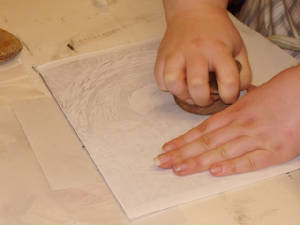 Printing the block on paper, silk scarf or t-shirt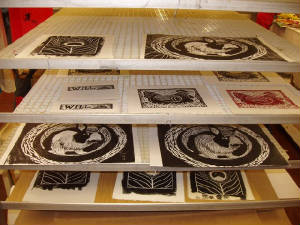 Printed multiple copies or repeat patterns
Introduction to Block Printing (linoleum, etc.) S.V. Medaris

This is an introductory level printmaking class. Explore how to make block prints using linoleum. Plan, draw and transfer your design, prep, cut and print a linoleum block without a press. Demonstrations will include: different ways to add color to your print, printing on fabric and/or tees (with the press),or silk scarves printed by hand, and a 2-color card/print with basic registration.
Focus on a design for holiday or greeting cards if you'd like, giving it your personal touch. Or, c
onsider printing on scarves or tees, with gift making in mind. A smaller block can be carved reasonably fast, and used as a repetitive motif. Explore the power of the multiple in printmaking... by printing patterned motifs or printing repetitions on fabric and cards. (additional cost for silk scarves, or bring your own t-shirts, all are great affordable gifts)
Make your design as simple or as complex as you'd like, but keep details to a minimum and/or size of block small so that you can finish cutting and printing before end of workshop. (5" x 7" - 4" x 6" ideal. No larger than 8" x 10") Better understand the different substrates for cutting (different kinds of linoleum, rubber, wood, and synthetic materials), different papers for printing on, and the different tools you'll need for different techniques/substrates. Note: More detailed information on supply list. Sat / Sun, Oct 19 & 20, Sat 9-4, Sun 10-4 $215/$15 materials