Sept 2013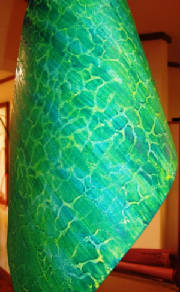 Decorative Paper Technique - Paste Papers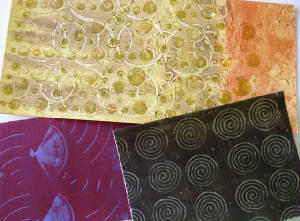 Decorative Paper Technique - Paste Papers
Paste Papers
Mini Workshop
Jackie Hefty
A personal favorite, explore the freedom of expressing yourself making creative papers for collage, scrapbooking or as decorative papers for the book arts. Fun decorative techniques, few limitations, follow up with more at home. Paper recommendations on supply list. (Just a little messy, bring a smock, it's akin to fingerpainting!) No experience required, may be repeated. Thurs Sept 5 1-4 $45/$10 materials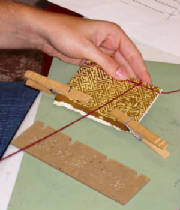 sewing a stab binding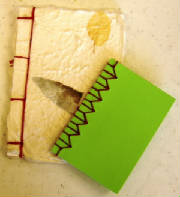 Stab bindings
Bookmaking: The Basics Crash course! or Great Refresher! Jackie Hefty
Learn the basics as you develop a portfolio of book structures to use for journals, one-of-a-kind books, or gifts. Explore choosing, folding, tearing, and cutting paper, besides learning basic sewing and gluing techniques to create a selection of unique books with minimal supplies. Discover a plethora of ideas for how to utilize beautiful decorated papers. Also a good foundation for more advanced book structures. Continue making beautiful books at home with just a few basic tools. Material fees cover supplies. No experience necessary. Fri Sept 6 10 - 5 $105/$20 materials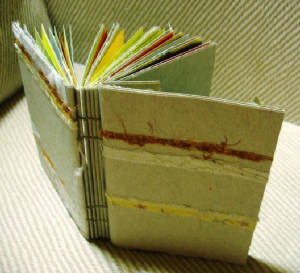 Paired Needle Binding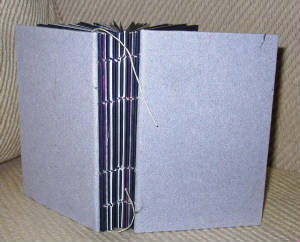 Paired Needle Binding
Book Structures: Paired Needle Binding Jackie Hefty Time and $ change (Note below)
It just sounds difficult, not really so hard, but it gives you bragging rights! You will be sure to impress your friends or family with your bookmaking skills when you show them this creation. An exposed stitching design on the spine of the book resembles a herringbone pattern. This book is designed to lie flat when open which allows for ease in drawing or writing. Makes a great gift! Previous book making is recommended, but not required. Minimal supplies are necessary to continue making these beautiful books at home. Class sizes are limited. All materials needed are included but suggestions for personal embellishments are provided in the supply list. Sun Sept 8 1 - 4 $65/$5 materials (Note Error: 10 - 4 $95/$10 materials)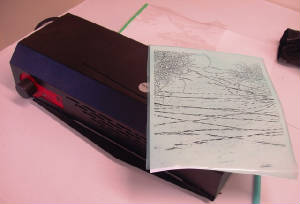 Thermofax Screen Printing
Paired Needle Binding supply list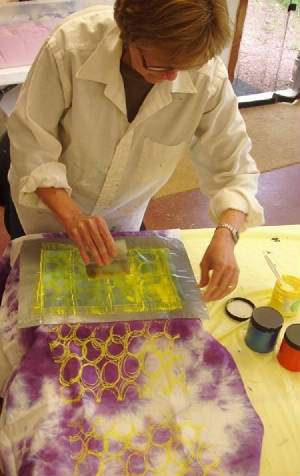 Thermofax Screen Printing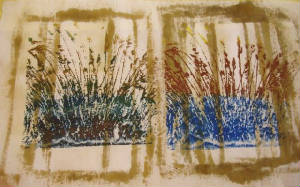 Thermofax Screen Printing
Simple Screen Printing & Intro to Thermofax Screens Jackie Hefty
Join us as we approach Screen Printing on a shoe-string budget. Make your own small screen with thrift store materials. Explore water-based printing with a variety of simple screen resists. Learn to print images or visual textures (i.e. representational or not) on paper or fabric. Includes an introduction to Thermo-imaging (thermo fax machine) screen making using a high contrast images you provide. No screen printing experience necessary. Tues Sept 10, 10 - 5 $95/20 materials
Screen/Thermofax printing supply list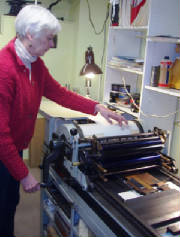 Working the Press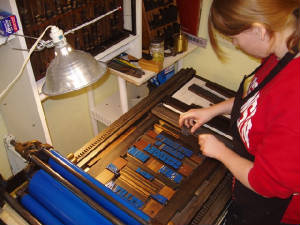 working the press
Letterpress Jackie Hefty The printing press, used as both a workhorse and an art form. With cast metal or wood type handset a greeting from the assortment of Whispering Woodlands fonts. Explore the ornaments, ding bats, etc. that can be added to enhance and embellish your message. Print multiple copies to send to family & friends. Recommended papers will be discussed, students supply their own paper based on individual preferences. Thurs Sept 12, 19, 26, 1 - 5 $145/$15 supplies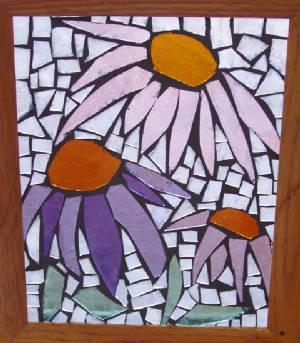 Cone Flowers
Stained Glass Mosaics Jackie Hefty Create the effect of stained glass and learn the art of mosaics by creating a glass-on-glass art piece in this two-session class. Learn the basics of mosaics including design, tools, cutting, adhesives, and grouting, and find out how to continue these projects at home. Tues Sept 17, 24, 1-4 or 6-9 pm $65/$20 materials
Mosaic Stained Glass Supply List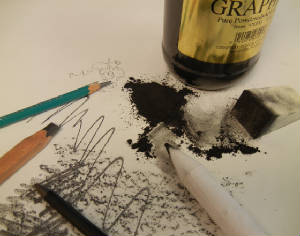 Fun with Graphite
Fun with Graphite Kay Brathol-Hostvet

There is a simplicity to graphite that most of us admire, from doodles using an ordinary #2 pencil to super realism done with pencils ranging from very hard to very soft "leads." We'll play with various types of graphite pencils and manipulate graphite powder in a range of fun projects. You'll learn a whole lot about erasers as tools, too. All supplies provided, no drawing experience necessary! Sat, Sept 21, 9-12 $65 Sign up for both and save, both for $125!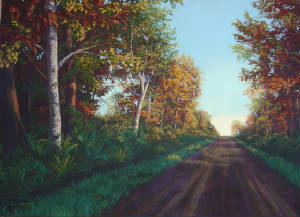 Pastel Expression: Autumn Equinox
Pastel Expressions: Celebrating the Autumnal Equinox Kay Brathol-Hostvet

Celebrate the changing of the seasons with creative play! We'll work with soft and iridescent pastels on colorful papers creating designs that combine symbols of autumn with your own imagery. No drawing or painting experience necessary; all materials provided. Sat, Sept 21, 1-4 $70 Sign up for both and save, both for $125!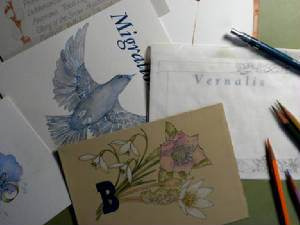 Nature Journal images by Cynde Quinn
Autumn Nature Journals Jackie Hefty
Nature Journaling to include: drawing, stamping, and incorporating your impressions in words, thoughts, and feelings inspired by nature. Participants will create individualized books to contain various explorations in the different mediums. A large selection of activities to personalize your experience. Print on the Vandercook press with guided assistance. Use nature designs from Whispering Woodlands type collections as well as short quotes already set in type. Explore combinations of Drawing/Written Reflections/Quotations/Letterpress No experience necessary! Sun, Sept 22, 10 - 4 $95/$15 supplies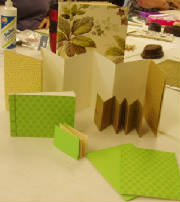 book structures assortment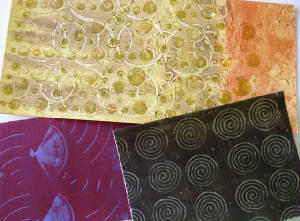 Decorative Paper Technique - Paste Papers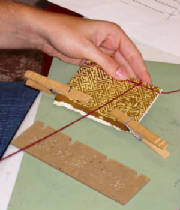 sewing a stab binding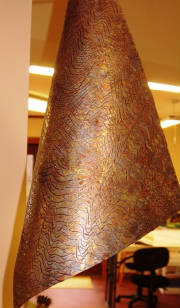 Paste papers
Decorative Papers & Book Structures Intensive Workshop Jackie Hefty
Create a myriad of decorative papers on Saturday using new or tried-and-true techniques; learn, share and expand your experiences. On Sunday we use these gems, with all their unique characteristics and slight imperfections, to make several one-of-a-kind books. Minimal supplies allow you to continue at home. No experience necessary. Sat/Sun Sept 28, 29 10 am - 4:30 pm $130/$20 materials
Site Navigation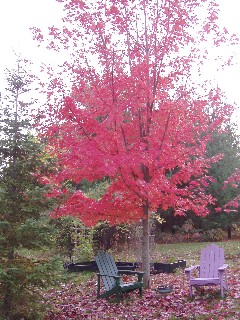 Colorful possibilities...