a Retreat to Nature for
the Creative Mind

Sept 2013
Book Structures: A Continuation Jackie Hefty

Continue to develop your personal portfolio of book structures. Starting with basic designs, individual choices will be provided for the beginner or more advanced student. Follow your own direction with guidance and direction for journals, one-of-a-kind books, and/or gifts. Create a selection of unique books with minimal supplies. Small class sizes allow for more individualized approach. No experience necessary. $175/ $10 materials Wed evenings May 18, 25, June 1, and 8 6:30 - 9:30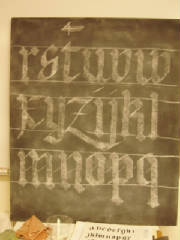 calligraphy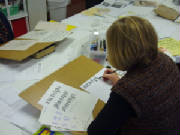 calligraphy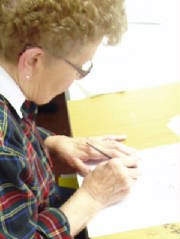 calligraphy
calligraphy
Sat & Sun, Feb 2, 3 Intro to Calligraphy 10 - 4 Sat, 1- 4 Sun Jackie Hefty
Thurs Feb 7, 14, 21, 28 Calligraphy II Producing Scribes 1 - 4 Jackie Hefty
Tues Feb 5, 12, 19, 26 Long Stitch & Coptic Book Bindings 1-4 Jackie Hefty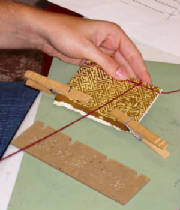 sewing a stab binding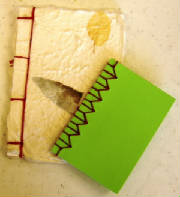 Stab bindings
Bookmaking: The Basics Crash course! or Great Refresher! Jackie Hefty
Learn the basics as you develop a portfolio of book structures to use for journals, one-of-a-kind books, or gifts. Explore choosing, folding, tearing, and cutting paper, besides learning basic sewing and gluing techniques to create a selection of unique books with minimal supplies. Discover a plethora of ideas for how to utilize beautiful decorated papers. Also a good foundation for more advanced book structures. Continue making beautiful books at home with just a few basic tools. Material fees cover supplies. No experience necessary. Fri Feb 8 10 - 5 $105/$20 materials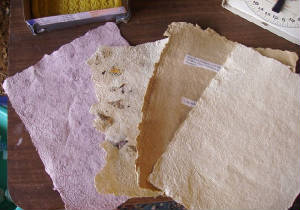 Papermaking student work
Papermaking Fall Harvest Jackie Hefty Explore possibilities of papermaking that can be continued at home. In this four-session class we prepare paper pulp in a blender, in a Hollander beater, and by cooking. Looking to our gardens and fall harvesting, we use a variety of plant materials. Processes covered include: recycling of papers, sheet formation, collage, and pulp painting. Appropriate for the beginning or experienced papermaker. Held in conjunction with UW Continuing Studies (registration thru UW) Wed Sept 7, 14, 21, 28 12:30 - 3:30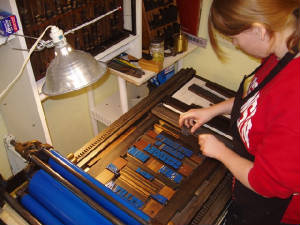 working the press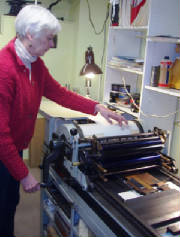 Working the Press
Letterpress Jackie Hefty The printing press, used as both a workhorse and an art form. With cast metal or wood type handset a greeting from the assortment of Whispering Woodlands fonts. Explore the ornaments, ding bats, etc. that can be added to enhance and embellish your message. Print multiple copies to send to family & friends. Recommended papers will be discussed, students supply their own paper based on individual preferences. Thurs Sept 8, 15, 22, 29, Oct 6, 13 6 - 9 $225/$15 supplies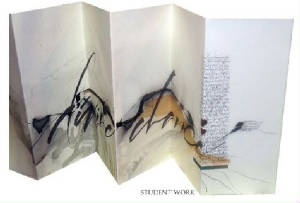 Student Work - Pamela Paulsrud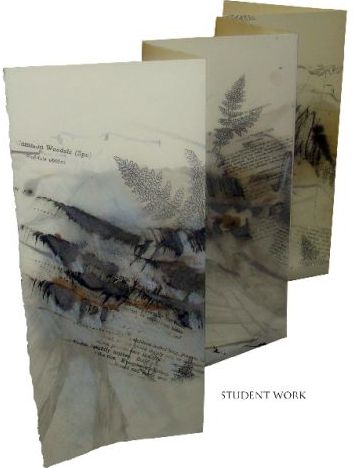 Student Work - Pamela Paulsrud
Click Here for Spontaneous Mark Supply List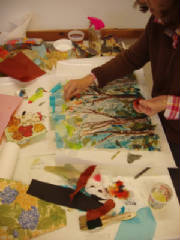 Fabric Papers in production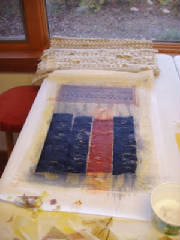 Fabric Papers in production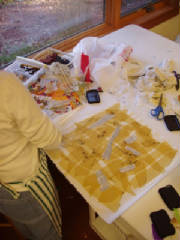 Fabric Papers in production
Fabric Papers Jackie Hefty A little bit of this, a little bit of that: Fabric Papers. Come and play! We will have the supplies necessary for you to explore. Fees cover most consumable materials. Some papers recommendations to bring along are available on supply list. Tues Sept 13 1 - 4 $40/5 materials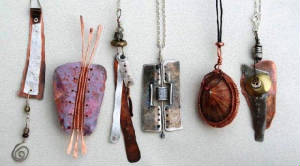 Examples Cold connections Mary Hetts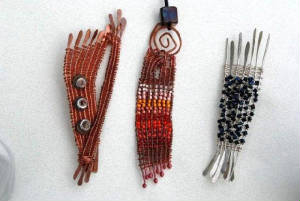 Examples Altered Woven Mary Hetts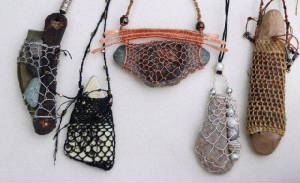 Examples Altered Woven Mary Hettsmanperger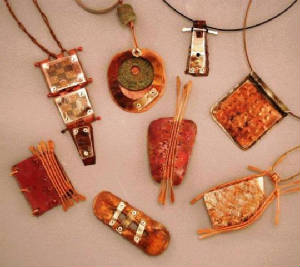 Examples Cold Connections Mary Hettsmanperger
MIXED METALS - cold connections and altered woven jewelry Mary Hettmansperger
Using Copper and brass sheeting students will create a variety of styles of jewelry in mixed metals. Students will burn, fold, wrap, forge, cut, patina, and simply alter the surfaces to achieve amazing and innovative results. Copper and craft wires will be used to stitch, weave, twine, loop, knot, coil, connect and embellish the many pieces of jewelry made during the workshop. Using commercial connections, such as nuts and bolts, eyelets, brads, jump rings, and rivets students will learn a variety of cold connections and their possibilities. Found objects will be used as both altered art and the base for woven forms. Rocks, Pods, bark, found glass, and small sticks will become an intricate part of some of the jewelry. Nature's objects, architectural elements, and personal imagery will be used as studies to be interpreted into jewelry, by the individual's creative voice. There will be a wide range and variety of Jewelry produced during this class and each student will learn many techniques to make unique and unusual jewelry. Sat/Sun, Sept 17/18 10- 4:30 $310/55 materials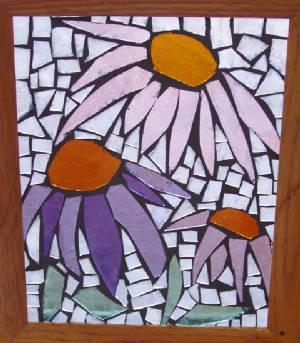 Cone Flowers
Stained Glass Mosaics Jackie Hefty Create the effect of stained glass and learn the art of mosaics by creating a glass-on-glass art piece in this two-session class. Learn the basics of mosaics including design, tools, cutting, adhesives, and grouting, and find out how to continue these projects at home. Tues Sept 20-27, 6-9 pm Held in conjunction with UW Continuing Studies (registration thru UW)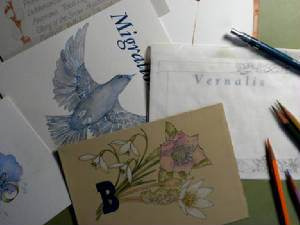 Nature Journal examples, letterpress, border designs or images.

Nature Journals Cynthia Quinn/Jackie Hefty
Nature Journaling approaches to include: drawing, pen & ink, stamping, and watercolor techniques, along with the words, thoughts, and feelings inspired by nature. Participants will create individualized books to contain various explorations in the different mediums. A large selection of activities to personalize your experience. Print on the Vandercook press with guided assistance. We will have nature designs from Whispering Woodlands type collections as well as short quotes already set in type. Explore combinations of Drawing/Watercolor/Pen & Ink/Written Reflections/Quotations/Letterpress Two days/two instructors! No experience necessary! Fri/Sat, Sept 23/24, 10- 4:30 $255/$15 supplies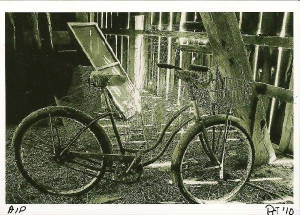 Photo by Peter Robert Thompson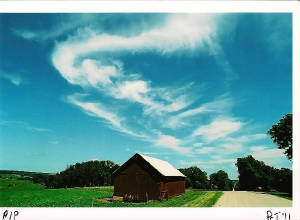 Photos by Peter Robert Thompson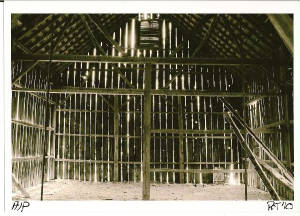 Photos by Peter Robert Thompson
Photography: What's Your Next Step
Peter Robert Thompson
Bring your questions, thoughts and ideas, along with your enthusiasm and be prepared for an excellent experience drifting through and photographing Wisconsin's spectacular settings/scenery. During this workshop, we will explore how to find our Muse (so important for any artist). We will also discuss composition and the aesthetics of photography. If you own one, bring a tripod!
Students need to have an active knowledge of photography and a means of producing prints of their photographs taken during the first class. Participants should bring older as well as more recent examples of their work, for the purposes of discussion, trouble-shooting or a gentle but honest critique.
Please be familiar with your camera controls, make sure that your batteries are fresh or charged up and bring extra film as it applies. Be prepared for weather changes, bring snacks/beverages as desired. Plan on a lunch rendezvous.
Please note: this is not a technical workshop, although we will consider craft as it contributes to your creative statement. Sun Sept 25 & Sun Oct 9 10-5 $195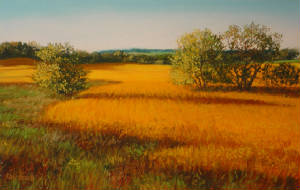 Last Hurrah by Kay Brathol-Hostvet
Please Note: Due to several requests you may register for individual days.
Plein Air Weekend
Plein Air in Soft Pastels with Kay Brathol-Hostvet
Pastel is perfect for depicting the various textures and warm colors of the autumn landscape and is a very portable medium so it is ideal for plein air work. In this two-day workshop, Kay will demonstrate several techniques that are especially helpful for outdoor work. You will complete one-two small paintings each day that can be used as studies for larger studio works or might stand alone as plein air masterpieces. We may go off-site for some of each day. If bad weather, we will work in the studio from photographs or a nature-inspired still life.
Fri and/or Sat Sept 30 and/or Oct 1 9-4:30 Fri & Sat $170/$7materials, Fri only $90/$5 materials, Sat only $90/$5 materials
Click Here for Autumn Plein Air Pastel Supply List
Please Note: Due to several requests you may register for individual days.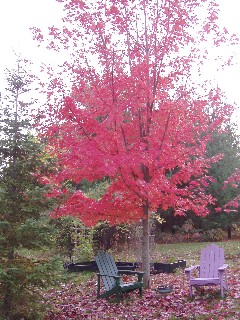 Colorful possibilities...
Plein Air in Oils
Kathie Wheeler
During this Plein Air Oil Painting workshop the focus will be on the connection that takes place between the artist and the landscape. The workshop will begin with a discussion and demonstration of the way Kathie approaches her canvas in a painting. You will receive one on one instruction in composition, color, paint application and drawing and have plenty of time to paint. All skill-levels welcome Sun/Mon Oct 2/3 10 - 4:30 Both Sun & Mon $190, Sun only $100, Mon only $100
Click here for Plein Air Oils Supply List