Enter supporting content here
a Retreat to Nature for
the Creative Mind

April 2013
still under construction...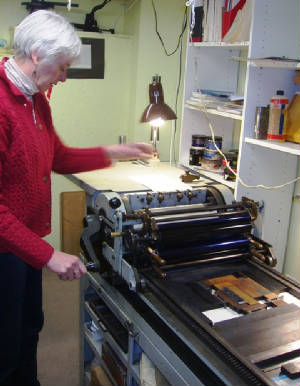 Letterpress printing
Intro to Letterpress Jackie Hefty
Discover the history behind the printing press, as workhorse and as an art form. Using cast metal or wood type, handset a greeting from an assortment of fonts or type styles. Explore ornaments, dingbats, and other enhancements and embellishments. Print multiple copies to send to family and friends. Free parking Mon April 1, 8, 15, 22 6-9pm Held in conjunction with UW Continuing Studies, registration is through UW, see link below.


UW Continuing Ed Logo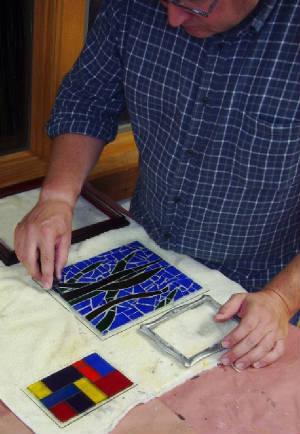 Mosaic Stained Glass
Link to UW Continuing Studies website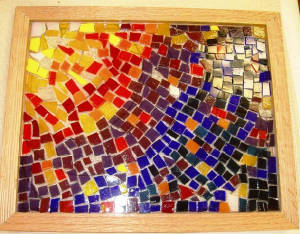 Mosaic Stained Glass
Mosaic Stained Glass
Jackie Hefty
Capture the beauty of transluscent glass in an array of color as you create the affect of stained glass as a mosaic. Covering the basics of mosaics as you create a glass on glass hanging art piece. Leave with a better understanding of design considerations, tools, cutting methods, adhesives, grouting, and how to continue at home. Thursdays, April 4, 11 1 - 4 $65/$20 materials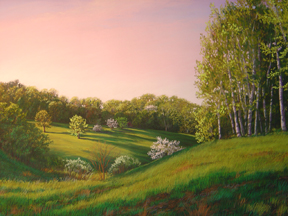 Soft Pastel Exploration
Soft Pastel Exploration: Intermediate-Advanced Kay Brathol-Hostvet
Challenge yourself to take the next step in pastel! This workshop is geared toward those who have already taken numerous introductory pastel workshops, are fairly accomplished and comfortable with the medium, and have competent drawing skills. Work toward increasing your artistry through technique and consider design and content in developing your images. Specific papers and a selection of both hard and soft pastels are required. Sat, April 6 9 - 4 $100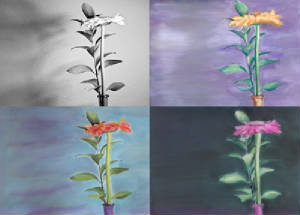 Color My Workd pan pastel on photo
Color my World Mini Workshop NEW! Edna Kunkel
This workshop explores the application of powder-based PanPastels on black-and-white photographs to enable creative use of color without any drawing or painting experience. If you can apply eye shadow or have ever used a coloring book, this workshop will bring back a more colorful you. Or, if you're a traditional pastel artist and want to try this medium to shake out the cobwebs, you'll enjoy this very different approach. Instructor will provide all materials (80-color PanPastel palette, Sofft applicator tools, black-and-white photos, fixatives). Sun April 7 1-4:30 $60/$7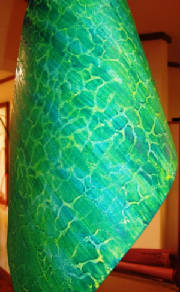 Decorative Paper Technique - Paste Papers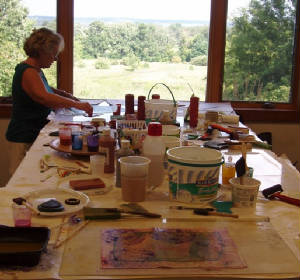 Decorative Paper Technique - Paste Papers
Paste Papers
Mini Workshop
Jackie Hefty
A personal favorite, explore the freedom of expressing yourself making creative papers for collage, scrapbooking or as decorative papers for the book arts. Fun decorative techniques, few limitations, follow up with more at home. Paper recommendations on supply list. (Just a little messy, bring a smock, it's akin to fingerpainting!) No experience required, may be repeated. Tues April 9 1-4 $45/$10 materials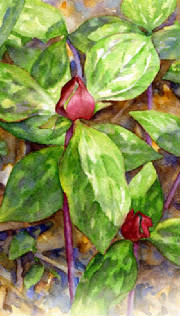 Red Trillium by Cynthia Quinn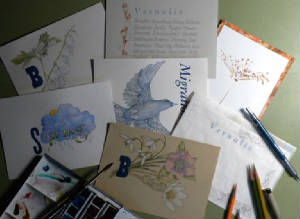 Examples of Letterpress and Cynthia's art
Nature Journals Cynthia Quinn
Combine your interests in art and nature by starting a journal. Learn to sketch plants and animals, make seasonal notations, and incorporate words or poems. This two-day class covers drawing fundamentals and various ways to use pen and ink, watercolor pencil, and watercolor. The instructor presents many examples and demos to generate ideas and excitement about exploring the natural world. Free parking. Sat, Sun April 20/21 9:30 - 4:30 Held in conjunction with UW Continuing Studies, registration is through UW, see link below.

UW Continuing Ed Logo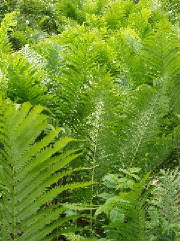 Ferns at their finest.
Link to UW Continuing Studies website
Picture soon...
Suminagashi Floating Inks
(Paper Marbling technique of the Far East) Mini workshop
Jackie Hefty
A decorative paper technique with uses in bookmaking, collage, scrapbooking, letterpress printing and cardmaking. Suttle use of swirling colored inks on thin Japanese papers. Minimal supplies necessary to continue at home. Thurs April 25 1-4 $45/$10 materials
Site Navigation