July 2013
Late June - Preliminary Sept PDF (more to come)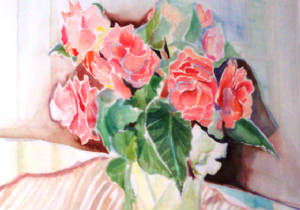 Summer Watercolor
Summertime Watercolor Sue Beavers
Create watercolor paintings incorporating techniques, materials and an impressionistic spirit. Using simple brush strokes create beautiful serene images. Weather allowing, you may also enjoy incorporating Plein Air during one or more sessions. Open to all levels. Fridays July 5, 12, 19, 26 9 - noon All four sessions $195/$20 materials fee, individual sessions @ $ 55/ $5 material fee
Summertime Watercolor Supply List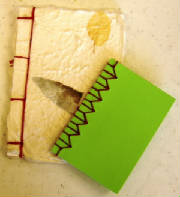 Stab Binding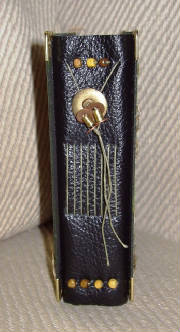 Long Stitch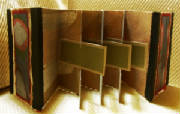 Concertina Flag book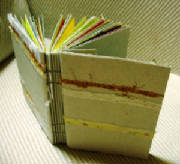 4 Needles/8 Signatures
Book Structures: Basics & Beyond Jackie Hefty Join us for an afternoon or every Friday afternoon all month long. Summertime and the living is easy... making a book or two. We will be focusing on a different binding each week, see below. You will better understand the characteristics of papers; choosing, folding, tearing, and cutting while you learn basic sewing and gluing techniques. Previous book making is recommended, but not necessary. Fri afternoons, July 5, 12, 19, 26 1 - 4, $55/$5 materials per weekly session or choose all 4 sessions $195/$20 materials (bring specialty papers per individual preference)

July 5 - Stab Bindings, July 12 - Accordian/Concertina/Flag Books, July 19 - 4 needles 8 signatures, July 26 - Long Stitch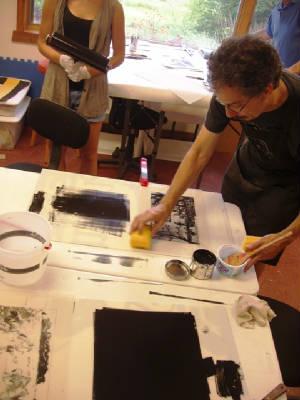 Pronto Prints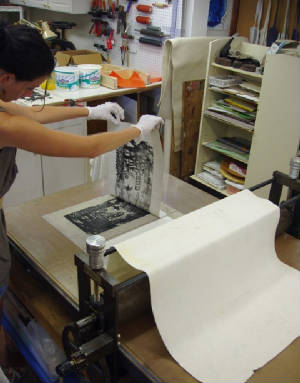 Pronto Prints
Pronto Prints Barry Carlsen
A simple way to print directly from your drawings without complications, carving or chemicals.
A beginning level class starting with limited techniques and manageable plate sizes for the time we have. Emphasis will be the simplicity of the process to encourage both experienced printers and the non-printers as well. The first day would include a simple introduction to the process, a few image making techniques and drawing time. Plates may be taken home to work on if desired. The second day would focus on printing. We will stick to Black ink. Sat/Sun July 6 and 7 10 - 4:30 $ 255/$15 materials fee

For those interested in a second workshop to include expanding to color plates and experimental approaches, information, dates, interest will be discussed with class members on the second day.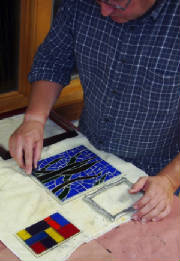 Mosaic Stained Glass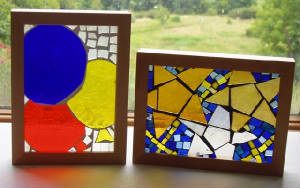 Mosaic Stained Glass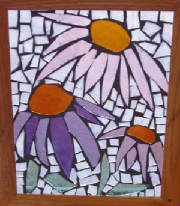 Cone Flowers
Mosaic Stained Glass Jackie Hefty
Capture the beauty of transluscent glass in an array of color as you create the affect of stained glass as a mosaic. Covering the basics of mosaics as you create a glass on glass hanging art piece. Leave with a better understanding of design considerations, tools, cutting methods, adhesives, grouting, and how to continue at home. Tues, July 9, 16 1 - 4 or 6 - 9 $65/$20 materials
Mosaic Stained Glass Supply List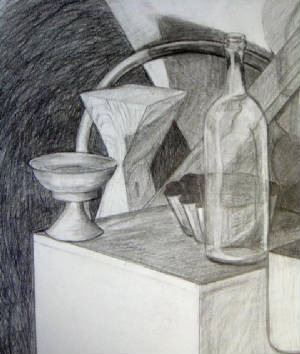 You CAN Draw
You CAN Draw! For the Absolute Beginner Kay Brathol-Hostvet

If you can ride a bicycle, operate a sewing machine, or drive a car, you can learn to draw, too! The skill of drawing is simply a matter of eye-hand coordination and practice. The focus of this workshop will be on how we learn to draw. Drawing is a fun and relaxing hobby, a useful tool in planning home and garden projects, and a foundation skill for all the other visual arts. If you are afraid to draw, Kay will alleviate those fears through fun drawing exercises and simple, straightforward directions to get you started. All materials are provided including your own sketchbook and drawing tools to take home.
Wed, July 10, 9-4:30 $95/$12 materials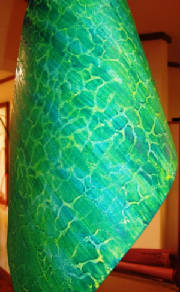 Decorative Paper Technique - Paste Papers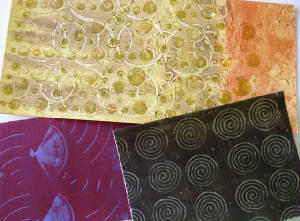 Decorative Paper Technique - Paste Papers
Paste Papers
Mini Workshop
Jackie Hefty
A personal favorite, explore the freedom of expressing yourself making creative papers for collage, scrapbooking or as decorative papers for the book arts. Fun decorative techniques, few limitations, follow up with more at home. Paper recommendations on supply list. (Just a little messy, bring a smock, it's akin to fingerpainting!) No experience required, may be repeated. Thurs July 11 1-4 or 6 - 9 $45/$10 materials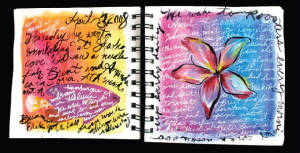 Sumi-e painting
Journaling Pages (text &/or image) Sue Beavers
Susan uses music, art and writing to tap into emotions. Feelings are expressed within a safe and contained environment through listening to music and drawing. Using the non-dominant hand, the creative, spiritual, feeling part of the brain is accessed to help explore and better understand yourself and your emotions. Through creativity, the soul instinctively heals itself. No artistic talent is required. The non-dominant hand exercises enable the intuitive, creative, spiritual problem solving side of the brain to be accessed. Minimal supplies, 8x10 sketch book or journal with unlined paper and a set of 12 markers. Wed July 17, 9 - noon $45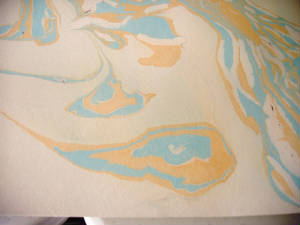 Suminagashi samples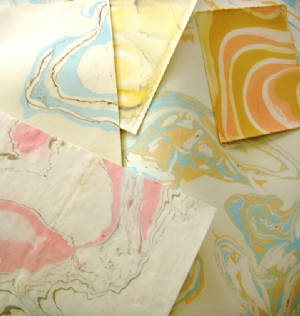 Suminagashi samples
Suminagashi Floating Inks
(Paper Marbling technique of the Far East) Mini workshop
Jackie Hefty
A decorative paper technique with uses in bookmaking, collage, scrapbooking, letterpress printing and cardmaking. Suttle use of swirling colored inks on water anc capturing on printmaking or Japanese papers. Minimal supplies necessary to continue at home. Thurs July 18 1-4 or 6 - 9 $45/$10 materials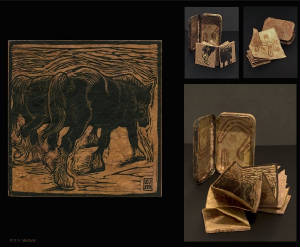 Clydesdales and Lucky Book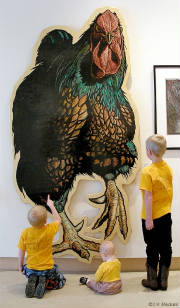 Cock 'O the Walk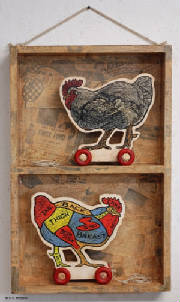 Back in the Day (poultry edition)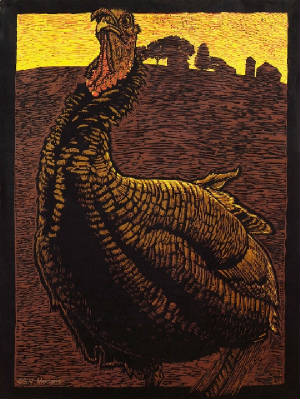 Turkey Promenade
Introduction to Block Printing (linoleum, etc.) S.V. Medaris

This is an introductory level printmaking class in which we'll explore how to make block prints using linoleum. Learn how to plan, draw and transfer your design, prep, cut and print a linoleum block without a press. Explore the different ways to add color to your print. In addition, we'll experiment with printing on fabric and/or tees (with the press). Learn the tricks to making clear, crisp prints easily and without frustration. Make your print as simple or as complex as you'd like, but keep details to a minimum and/or size of block small so that you can finish cutting and printing before end of workshop. (5" x 7" - 4" x 6" ideal. No larger than 8" x 10") Better understand the different substrates for cutting (different kinds of linoleum, rubber, wood, and synthetic materials), different papers for printing on, and the different tools you'll need for different techniques/substrates. You can experiment with cutting some of these materials as interest/time allow.
Note: More detailed information on supply list. Sat / Sun, July 20-21, Sat 9-4, Sun 10-4
$215/$10 materials
Commentary on Images by S.V. Medaris
Intro to Block Printing Supply List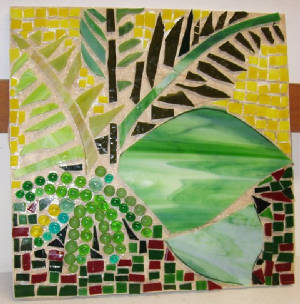 Garden Mosaic

Garden Mosaic
Garden Mosaic
Jackie Hefty
Capture the beauty and colorful nature of a favorite scene, symbol, flower, or either a geometric or abstract design in the form of a mosaic. We will be covering the basics of mosaics as you work, breaking glass or old china, adding marbles or stone pebbles to make your individualized mosaic art piece. Leave with a better understanding of design considerations, tools, cutting methods, adhesives, grouting, and how to continue at home. Wed, July 24, 31 1 - 4 or 6 - 9 $75/$20 materials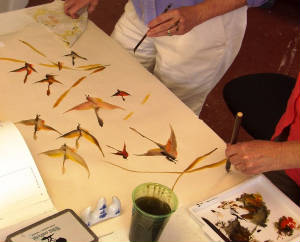 Sumi-e painting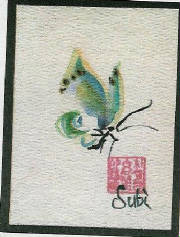 Sumi-e painting
Sumi-e: Birds & Butterflies Sue Beavers
Share in Sue's passion for the Japanese culture and learn the techniques of creating a sumi-e Birds & Butterflies. Sumi-e means ink picture in Japanese and in this workshop you will utilize a mixture of colors to paint your images. Sign up to learn more! Tues & Thurs July 23 & 25, 9 - noon $95/$5 materials

Sumi-e Birds & Butterflies supply list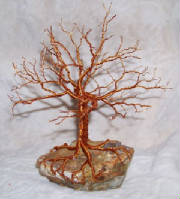 Wire Tree of Life 2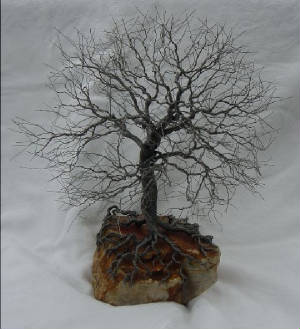 Wire Tree of Life 1
Tree of Life, Wire Sculpture Ann Preston
Wire tree sculptor, Ann Preston introduces her techniques in creating beautiful and unique life-like wire trees on a solid rock foundation. An intriguing process using annealed wire, your sculpture will look terrific with the weather pitted rock indoors or out. Choose a half day or full day of twisting learning fun. Half day program offers everything you need to know, on a smaller scale (approx. 6" tree). Full day provides for a larger work, (approx. 10" - 12" tree) more twisting, turning and branching. Either will look great indoors on a shelf or desk or in an outdoor garden setting. All supplies included! Sat July 27, 9 - 12 or 9 - 4 $70 half day (smaller sculpture) $115 full day (larger sculpture)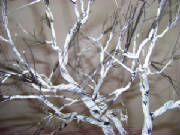 Wire Tree of Life branches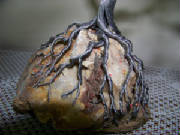 Wire Tree of Life roots and rock foundation