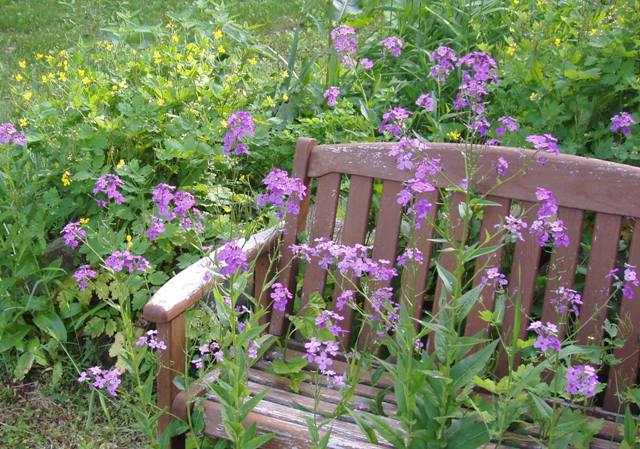 Early summer at Whispering Woodlands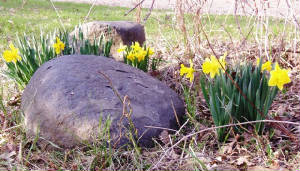 Shouting SPRING
June 2017
Are your batteries running on low? Need a creative recharge? Can't commit to a two day or even a one day workshop right now? Contact me to arrange one of our 3 or 4 hour programs, on your schedule. Bring your friends and share a few hours in a supportive environment with creative and like-minded individuals.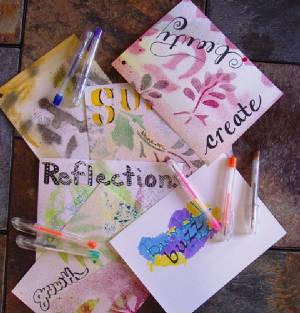 Playful Letters assorted techniques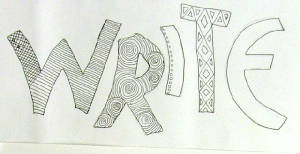 Playful Letters needing to be finished and color added.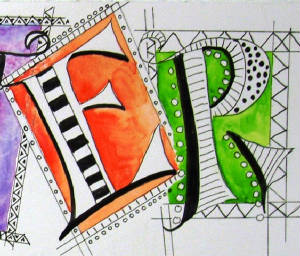 Playful Letters sample
As a departure from the more formal calligraphy styles, try this playful approach to letterforms! Explore the use of markers, paints, colored pencils, doodling, and more. You will learn fun and funky styles using block letters, stencils, stamps, along with adding a new twist to your personal handwriting. Playful letters can add to your journals, scrapbooks and more. Some supplies provided. No experience necessary. Sun June 4, 1 - 4:30 $55/$7 materials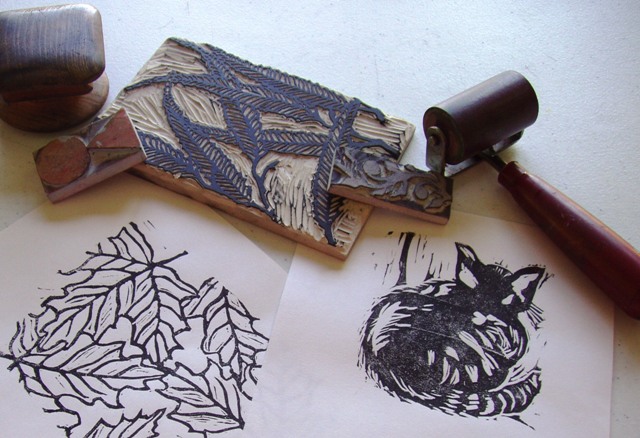 Relief Block Printing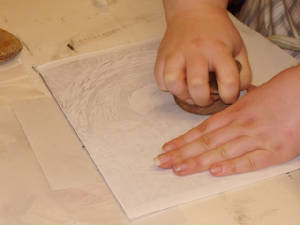 student at work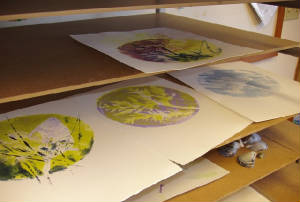 Student prints on drying rack
Relief Printmaking
Most people are familiar with rubber stamps and the concept of being able to print multiple copies, often as cards or gift tags. Are you ready to take this to the next level? Creating your own image and carving a block? Let me show you how, learn the basic process and you will be on your way to making your personal greeting cards or larger format images. In this class you will have the opportunity to print both with and without a press, so you may easily continue at home. Appropriate for all levels. Sat / Sun June 10 & 11, 1 - 4 $110/$15 materials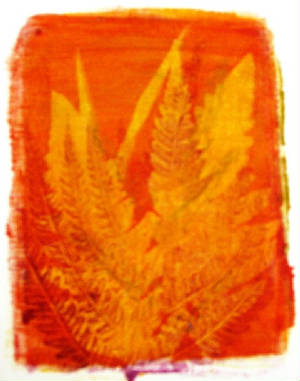 Gelatin Print using ferns/follage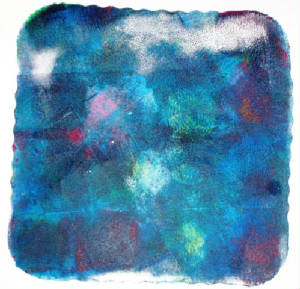 Gelatin Print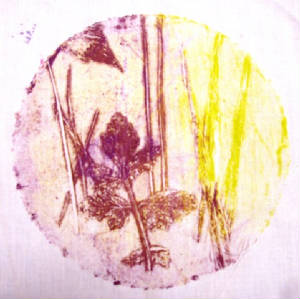 Gelatin Printing Sample on Fabric
Intro to Gelatin Monoprints and Monotypes
Explore one-of-a-kind, fun, and easy printmaking method using either homemade gelatin plates or the popular Gelli Plates available locally at Lynn's (on Odana Rd). Employ both additive and subtractive methods of working, stencils and natural elements add extra dimension. Gelatin 'plates' will be prepared ahead for your use, and a selection of commercial 'Gelli' plates will be available to try, bring your own if you have one. Personal choice between paper and fabric for your basis to print on, see supply list. We will be using water-based mediums. No experience necessary. Fri June 16, 1 - 4 p.m. $55/$15 materials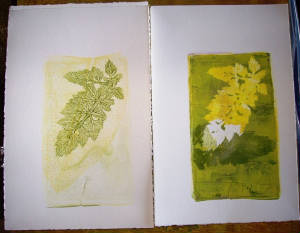 Ghost Negative Print & Positive Gelatin Print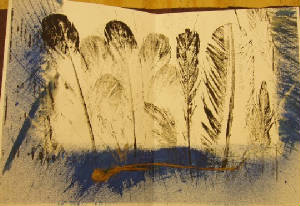 Monoprint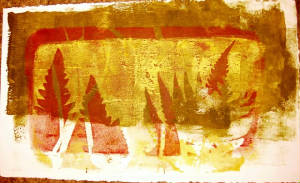 Gelatin Monoprinting Sample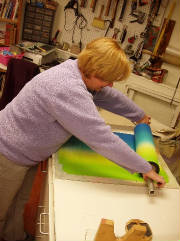 working the roller
Mono Printing Alternatives Jackie Hefty
An introduction to an assortment of mono-printing techniques on day one and application of these new and familiar approaches on day two. Expanding on the gelatin/gelli prints, explore Mylar with water soluble crayon and utilizing plexi plates on a press. Individualized approaches to additive and subtractive methods make each print unique. Sat June 17 & Sun June 18, 1 - 4:30 $110/$15 materials
Mono Printing Alternatives Supply List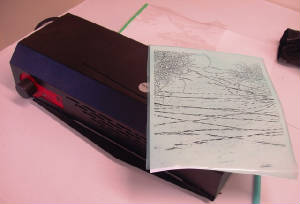 Thermofax Machine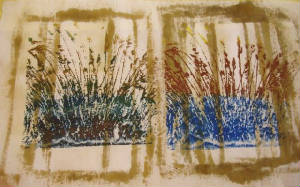 Thermofax Print same image, different inking
Intro to Thermofax Screen Printing
Introduction to Thermo-imaging (thermo fax machine) screen making using a high contrast images you provide. Explore water-based printing with this quick image making process. Learn to print images or visual textures (i.e. representational or not) on paper or fabric. No screen printing experience necessary and may be continued at home. Thurs June 22, 1 - 4:30 p.m. $60/$20 materials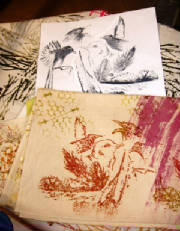 Thermofax Print with image design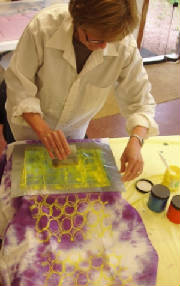 Thermofax Screen Printing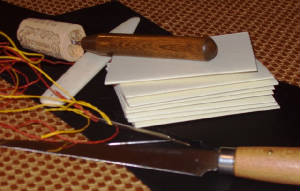 Basic Supplies
Bookmaking:
The Basics
Crash course! or Great Refresher!
Learn the basics as you develop a portfolio of book structures to use for journals, one-of-a-kind books, or gifts. Explore choosing, folding, tearing, and cutting paper, besides learning basic sewing and gluing techniques to create a selection of unique blank books with minimal supplies. Discover a plethora of ideas for how to utilize beautiful decorated papers. We will also decorate a few for our projects. A good foundation for more advanced book structures. Continue making beautiful books at home with just a few basic tools. Material fees cover most all supplies. No experience necessary. Sat June 24 & Sun June 25, 1 - 4:30 $105/$20 materials
Click here for Bookmaking Basic Tool Kit
Layered Backgrounds - utilized as a book cover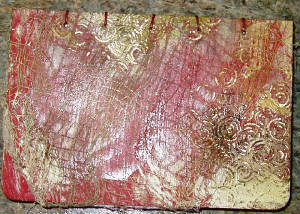 molding paste, gauze, paint, metallic rubbings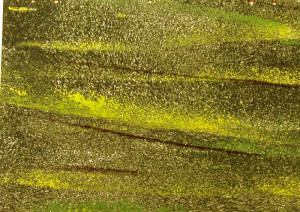 Layered background - roller textures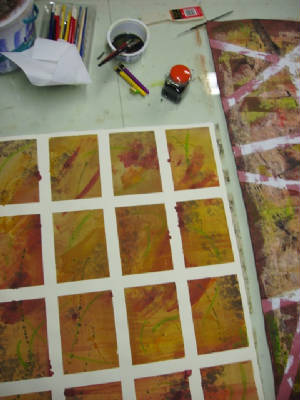 Mixed Media tape resist - tape removed on left
Layered Backgrounds & Textures as a Foundation Jackie Hefty
These may be the beginnings for a multitude of uses or the end in themselves. Journal/book pages, foundation for adding calligraphy or lettering, used as collage elements, the list goes on. Playful yet productive, taking a Mixed Media approach to preparing papers or fabric backgrounds for your personal book/journals, collages, paintings or fiber works. Several interchangeable techniques using paints, mediums and tools. Several pieces may be worked concurrently, or work on a larger format to be cropped or divided. Fri June 30, 1 - 4:30 $55/$15 materials
Click here for PDF Whispering Woodlands Program Listing May, June, July, Aug, +
Registration Form
For those who prefer, click below for a registration form to send with a check payment in the mail.
Click here to download PDF registration
Site Navigation