a Retreat to Nature for
the Creative Mind

July 2010

Whispering Woodlands
2nd Anniversary Celebration
Open House July 1, 2, 3 1-4 daily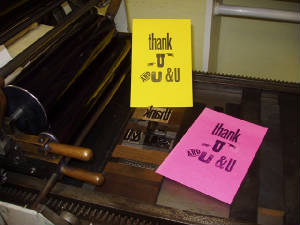 Whispering Woodlands extends it's thanks to U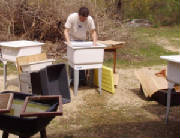 Papermaking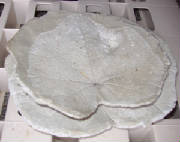 Leaf Casting
WW Mini (s) Papermaking Tues July 6, 10-1 and/or 1:30 - 4:30 Adults & Inter-generational
WW Mini (s) Leaf Casting Thurs July 8, 10-1 and/or 1:30 - 4:30 Adults
Click here for more info about Whispering Woodlands Mini(s) and to register.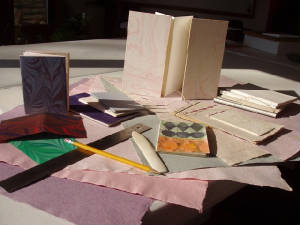 Basic Book Structures
Book Basics Jackie Hefty
Create book structures which can used for personal journals, one of a kind books or gifts. Learn folding, sewing and gluing techniques to create a selection of individually unique books. Adding embellishments and personal memorabilia will be encouraged. Minimal supplies are necessary. No prior experience is necessary. Great follow-up class if you participated in the Decorated Papers class in June.
Wednesdays July 7, 21, 28, 5:30 - 9:30 $145
Paper samples
Paper Pulp Play Jackie Hefty
Wet, Wild, Refreshing and Fun! Good clean fun with many artistic possibilities. You will be immersed in the paper making process from start to finish. Learn techniques of pulp preparation and sheet formation that you can do at home, requiring a minimum of supplies and equipment. Explore pulp painting, embedments, stenciling, pressing, drying and more. Suggested items to bring from home, available upon registration, allow you to Recycle, Reuse or Repurpose, join us as we explore the possibilities of this Green art form.
Fri July 9 10 - 4:30 $95/$10 materials
Hot Wax Encaustics
Hot Wax Encaustics Jenny Learner
Experience hot wax, beeswax, encaustics! More soon
As an Introduction to Encaustics - We'll start with a brief history of the medium and the artists who have been inspired by encaustic painting. Learn why the revival and new enthusiasm in today's art. Safety, palettes, brushes, supports, tools, paint, and medium will all be discussed. Students will explore techniques demonstrated on small boards, watercolor paper and handmade papers. No experience necessary - both beginners and experienced artists welcomed
Sat July 10 10 - 4:30 $125/$20 materials
Cool Pulp Vs Hot Wax - Open Studio Jenny Learner & Jackie Hefty
Weather permitting, we will conduct both workshops in the upper studio, in the open air, who knows what may develop... Explore, get a 'taste' of either or both, continue working on something you started on Fri and/or Sat and have fun sharing with others.

Sun July 11 noon - 4:30 $65/$10 materials
Join Us for the 3 Day Paper Pulp 'n' Hot Wax Combination Package rate $270/$40 supplies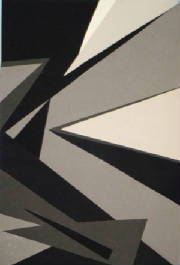 2-D Design student work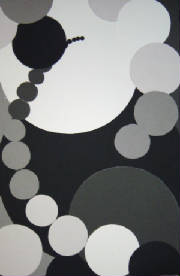 2-D Design student work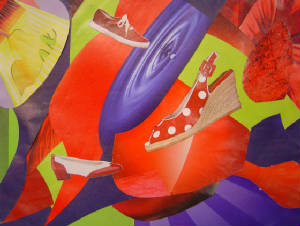 2-D Design student work
2D Design Fundamentals
Kay Brathol-Hostvet

Good design is the foundation for everything from outstanding paintings and drawings to exceptional gardens, from striking photographs to award-winning quilts. This is a concentrated "semester's worth" of 2D design instruction including numerous in-class and homework projects, lecture, group discussion, and many handouts. Students can later apply what they learn to both 2D and 3D design.
Mon & Wed mornings, 9 - Noon July 12, 14, 19, 21, 26, 28 $250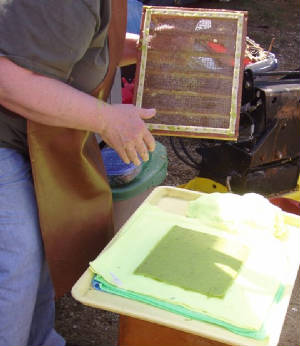 Papermakers Continued
Papermaking Exploration Jackie Hefty
Continue the papermaking journey with this three-week class. In addition to pulp preparation and sheet formation, explore the possibilities of pulp painting on a larger scale. No longer confined to the mould and deckle, explore pouring paper pulp on felts and matts. Individualized pulp preparation will allow for more independent work. Limited class size. *May be repeated and used as studio time.*

Tues July 13, 20, 27 4:30 - 7:30 $150 supplies TBD by individual interest/need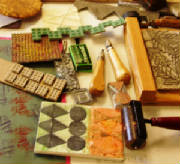 Stamp Making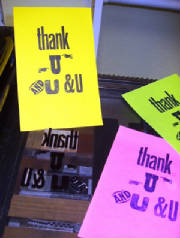 WW Mini (s) Letterpress Personalized Greeting Cards
Thurs July 15, 1 - 4 and/or 6-9 Adults
WW Mini (s) Stamp Design & making Fri July 16, 1 - 4 Adults
Click here for more info about Whispering Woodlands Mini(s) and to register.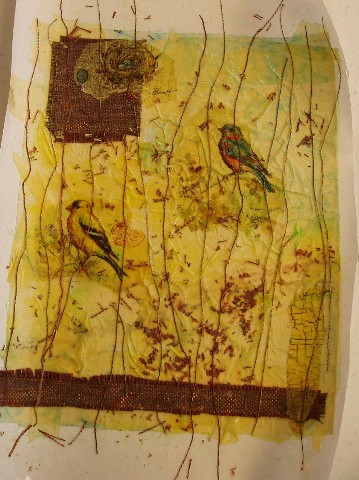 Mixed Media work
Mixed Media Fridays an evening call to work @ Whispering Woodlands
Let the weekend begin early, Once a month - usually the 3rd Friday of the month 6 - 9 pm

Join us for a relaxing evening of grazing and art making. Utilize some of the variety of supplies Whispering Woodlands has available; play, explore, and create in Mixed Media. OR Bring your latest project, some art supplies and relish in the community studio time. For all our friends unable to come for the Thursday morning Crit and Afternoon Open Studio, we open the doors for you on a Fri evening. (of course we'd love to have you mark your calendars for both!)

Enjoy a group potluck; bring a dish and BYOB to share. Plates and utensils are provided. Wear your comfortable clothes, and unwind. Got a story to tell, new music to share, this is the place to relax, refresh and rejuvenate from your busy schedule.
Gather 'round, Mixed Media Fridays an evening call to work @ WW is for adults only. Budding, amateur, and professional artists or curious individuals are welcome.
July 16 6-9pm $35 (most supplies included)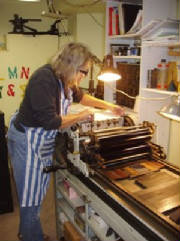 Letterpress Printing on a Vandercook Proof Press
WW Mini (s) Letterpress Personalized Thank You Greeting Cards Sun July 18, 1 - 4 Adults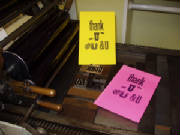 Letterpress Thank You Cards
Click here for more info about Whispering Woodlands Mini(s) and to register.
Monthly Group Critique - Afternoon Open Studio
July 22 4th Thursday of the Month!

Great News! Mark your calendars! A monthly group critique and open studio started May 27 and continues monthly on the 4th Thursday of the month. This opportunity is in response to numerous requests, so we are giving it try! Meet at 10:30 a.m. for a group critique (completed artworks or works in progress). This will be open to artists of all levels working in all media. Stay for lunch if you want (bring your own or order locally), and then open studio (non instruction) until 4:30. Come for one or both of these opportunities. Pre-registration is NOT necessary. Come on the spur of the moment if you wish.

Critique begins at 10:30, open studio after lunch. Group Crit $7 Open Studio $12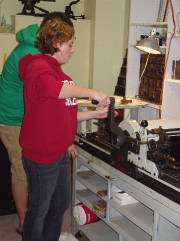 Couple printing 'Save the Date' announcements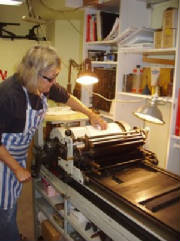 Poets Printing Progress - she is on her own now!
Artists - Writers - Poets, lend me your words...
Letterpress Marathon

Jackie Hefty
Using cast metal letterforms (type), you will handset a short quote, poem or personal greeting from the assortment of Whispering Woodlands fonts or typestyles. Type is set or placed in order, upside down and backwards. Challenging at first to say the least. Print multiple copies to send to family and friends. There are also stock images, wingdings, etc. that can be used to enhance your piece. Think of this as pre rubberstamping, used in production printing before the typewriter or computer. Discover the history behind the printing press, used as both a workhorse and an art form. Class size limited to 4.
Fri/Sat/Sun July 23/24/25 10 - 4 $195/$10 materials
Due to recent requests, we also offer Letterpress personal card making as a WW Mini, you just come and crank the press!
Click here for more info about Whispering Woodlands Mini(s) and to register.
glass journal
Additional information coming soon!
Glass Journal
Thomas Ashman
This little book is a beautiful union of form and function.
Fri July 23 10 - 4:30 $135/30 supplies
***Needs to Be Rescheduled***

RELICS & RUINS Thomas Ashman

Ancient things are inherently fascinating.
July 24/25 10 - 4:30 $275/35 Supplies
Jewelry by Shelia
Jewelry by Shelia
Jewelry by Shelia
Jewelry by Shelia
WW Mini (s)
Jewelry
Shelia Howe
Mon July 26, 1 - 4 necklace or bracelet, 6-9 earrings Adults & Inter-generational
WW Mini (s) Jewelry Shelia Howe Thurs July 29, 10-1 earrings, 1:30 - 4:30 necklace or bracelet Adults & Inter-generational
Click here for more info about Whispering Woodlands Mini(s) and to register.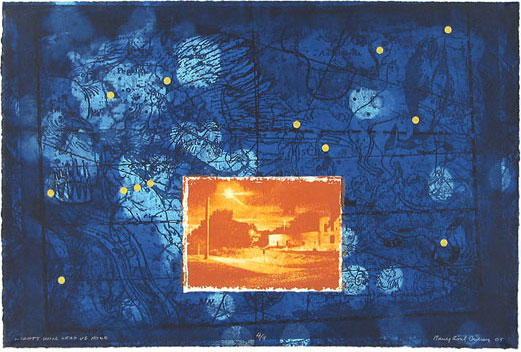 Poly Litho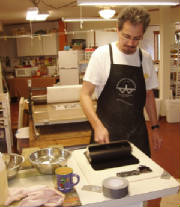 Inking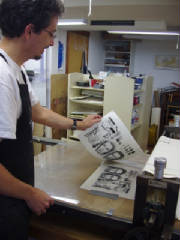 Proof is in the print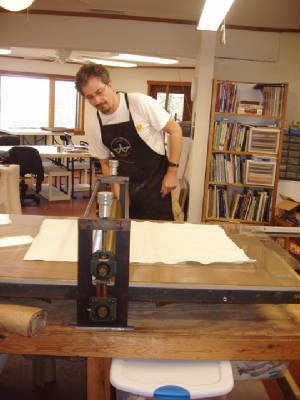 Barry at the press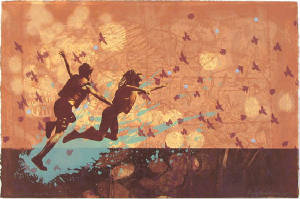 poly litho
Poly Litho with Barry Carlsen

Explore the artist-friendly process of polyester plate lithography. Prints will be created on an etching press, however this highly versatile medium is more direct than intaglio printing. It also eliminates the chemicals, processing time, costs, and technical difficulties associated with traditional lithographic or intaglio printing. No past printmaking experience is necessary.

This is a one day course with an optional second day. Materials and technical handouts will be provided. Students should come prepared with some ideas to pursue. The first day will began with a short history of lithography and a short series of technical demonstrations. The majority of time will be involved in creating a small black and white artist's edition. The second day can be utilized to add color to the edition by monoprinting, additional color plates or hand-coloring techniques. It can also be a day of independent exploration.
July 31 or July 31 & Aug 1 10-4:30 July 31 only $95/35 supplies July 31/Aug 1 $185/45 supplies (additional materials will be available for purchase on an individual as needed/interested basis)
Paper samples
Tsukineko All Purpose Inks Canceled

Judy Coates Perez
Tsukineko All purpose inks have a broad range of applications for painting fabrics. Learn effective shading and blending techniques working with wet and dry brush applicator methods, along with opportunities to create original fabric to use in your quilts or other creative projects.
Sat, Aug 14, 10 - 4:30 $140/$15 materials
Heavy Metal Work by Judy Coates Perez
Heavy Metal Play Day Canceled
Judy Coates Perez

Spend a day working with craft metal and discover a variety of ways you can add flash to your mixed media projects. Learn several embossing techniques, working with an assortment of tools to create designs with dimension and texture on aluminum and copper metal. Methods for joining metal to other media and adding color with alcohol inks will also be explored.
Each participant will receive a Walnut Hollow metal tool kit (a $29 value) and several pieces of aluminum and copper metal to work with, provided courtesy of Walnut Hollow. Minimal Supplies necessary to bring, small round synthetic paint brush and a mixing tray for paint.

Sun, August 15 10 - 4:30
$140/$5 materials