Pam -n- Rosie Team
Rosie -n- Pamela are coming back as a Team in 2018!
There will be a limited number of participants for the workshop.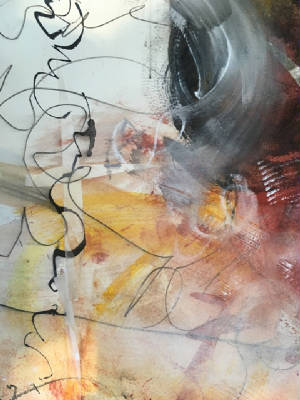 Paste Paper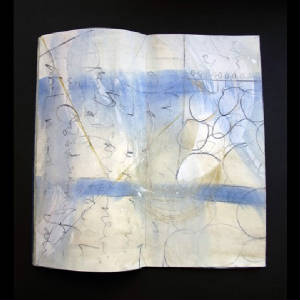 Untitled, Pam Paulsrud 1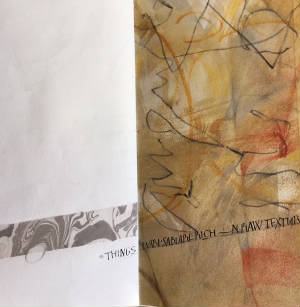 Wabi Sabi - Paste Paper & Suminagashi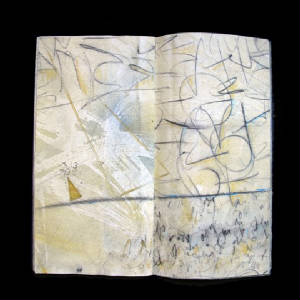 Pam Paulsrud Untitled 2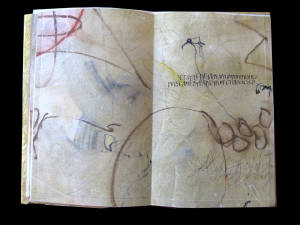 Rosie Kelly 2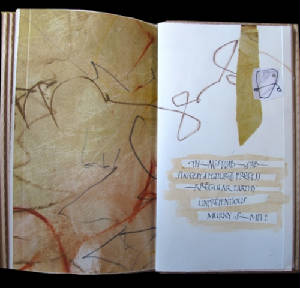 Rosie Kelly
Wabi Sabi Pamela Paulsrud & Rosie Kelly
This spring and fall, the focus at Whispering Woodlands with Rosie Kelly and Pamela Paulsrud will be on Wabi-Sabi, the Eastern aesthetic centered on the acceptance of transience and imperfection. What better place and time than the northern woodlands to entrain our bodies to the healing frequencies and harmonies of nature? What better place to immerse yourself in the early summer beauty or autumn's glory, while sharing in an appreciation of cosmic order?
Meditative exercises and the observance of new and old growth will inspire journaling and painting. Observation of sound and silence, color and form will inform pages as they layer with a variety of materials and processes.
Without preconceived ideas, we will explore the kind of beauty we are most deeply drawn to.
Author Leonard Koren says: "Beauty is a complex of exciting, pleasurable sensations primarily emanating from things that make us feel more alive and connected to the world. Often these feelings are accompanied by a compelling sense of truth, goodness and love."
Projects/structures will be developed incorporating Wabi-Sabi elements.
Suggested reading: Leonard Koren's book, Wabi-Sabi for Artists, Designers, Poets & Philosophers and Wabi-Sabi: Further Thoughts by Leonard Koren (Mar 17, 2015)

Registrations for the November 3rd and 4th Wabi Sabi Workshop with Rosie Kelly & Pamela Paulsrud have started. In order to meet our minimum and to hold the numbers as a comfortable level, we are asking for your registrations by October 20th. As long as we have met our minimum, registrations will continue after that date. Be sure to tell a friend !

Sat. Nov. 3rd, and Sun. Nov. 4th
9:30 a.m. - 4 p.m. $295/$15 materials fee
Pamela Paulsrud is a visual artist. In creating both intimate pieces and large-scale installations, her work as a papermaker, calligrapher, book artist and collaborator has been recognized internationally. Her exploration in energy and vibration, letters and lines, her love of the land, the earth and it's resonance, inspires both her work and her life.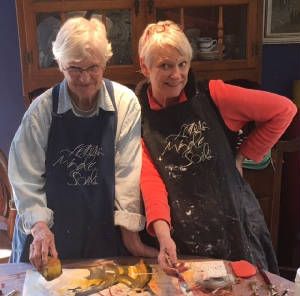 Pam -n- Rosie Team
Rosie Kelly - Love of language prompted Rosie's interest in word-art. She has studied with master teachers in the lettering and book arts over decades. The handmade book appeals to her because of its tactile properties and its many design possibilities and challenges. Several of her handmade books are included in the permanent collection of the Newberry Library in Chicago. Calligraphy guilds in Japan and New Zealand have invited her to teach, which she accepted with joy. She has taught for calligraphy guilds across the US. Her instructional book: Beyond Paste Paper: Artists' Books was published in 2012. Rosie plays with word, line, color and shape because she must. Her Muse insists.
Registration Form
For those who prefer, click below for a registration form to send with a check payment in the mail.
Click here to download PDF registration
Site Navigation