a Retreat to Nature for the Creative Mind

2017 Programs
Under construction, new beginnings!
Art Retreats in a natural and creative atmosphere.

Offering workshops in visual arts and more.

Local, regional, and national instructors.

Enrich, challenge and nurture your creative muse.

Carve out time for yourself; your mind, body, & soul.

Expand your imagination.
Learn, share, relax . . .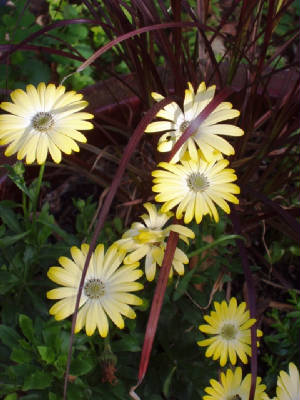 June begins
Happy New Year!
Cold, frigid actually, patchy ice, slopes are dicey, but sunny and enjoying the snow covered woodlands. Animal tracks surround the dome home/studio with straight line paths leading to the feeders from the meadow. Have only seen the racoons once during a warm spell, crows, oppossum and squirrels here on a daily basis. Wintering birds continue to swarm, as Kay would say, it's like an airport out there.
And thus, avoiding programming in the winter months, foregoing the worries of snow, drifting and icy conditions for your travel, making of plans only to cancel, juggling the plowing, salting and preparations. Hmmm, can't say I miss it. So, programs will begin later, in March with it's promise of spring! In the meantime, I will be offering workshops off site at Olbrich Gardens and Lynn's art supply store on Odana. Also using the down time to do some eco prints, letterpress printing, collage & book arts.
Thank you for your continued interest and support.
Gift Certificates
for that special someone
- Hint, Hint
Select the dollar amount and let the recipient determine the program.
Hint, Hint - Let someone know you'd like one too! - Hint, Hint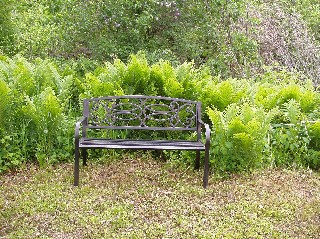 Fern grotto awaits you - summer 2008
Whispering Woodlands is following the lead of the fern grotto,
growing and stretching it's roots...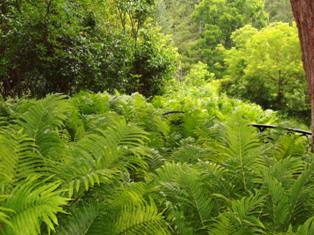 Fern Grotto June 2010 - benches almost hidden by growth!
Take time for yourself
reawaken
revitalize
renew
re-energize
restore
refresh
. . .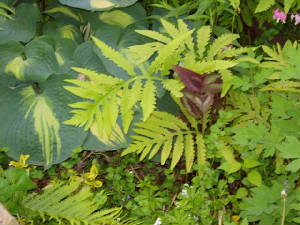 Local color