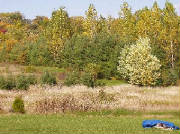 Fall color at Whispering Woodlands
a Retreat to Nature for the Creative Mind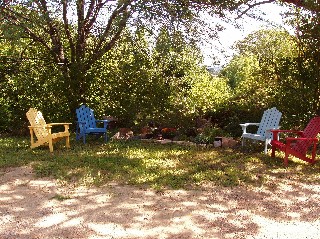 Welcome
Weave Drafting Briony Jean Foy
If you are a weaver you probably know how to read an existing draft but what if you want to design your own fabric? Have extra warp already threaded on your loom and want to make something new with it? Found a swatch of fabric with an interesting structure you would like to replicate or interpret? We will learn how to read, write and speak in "weave draft!" Bring along any drafts or swatches you are curious about! Supplies: Graph Paper, Colored pencils Should know what a weave draft is but experience not necessary. We will review the basics.
Tues. July 7, 6-9 $45
Personal, private or public, anniversaries are celebrated in many ways.
This is one we want public!
Whispering Woodlands
1st Anniversary!!!
In honor of this occasion we are holding a
Studio Round Robin
Thanks Kathy G for the idea!
Spontaneous Altered Embellished Collaborations
Due to an unexpected program cancellation we have an open weekend and we want to see the place humming. You'll still have time to take in Farmer's Market and/or the Art Fairs!
Whispering Woodlands will provide hand tools, assorted paints/brushes, doo dads, adhesives and more. Participants are asked to bring a modest assortment of treasures and supplies to use to alter, enhance, and embellish. Each individual will need to bring their substrate or base to work on; stretched canvas, wood panel, damaged or discarded book, box, window frame, small table top chest, found object - whatever you have available and choose to bring. After painting, distressing or embellishing our base, we will pass it on to another member of the community to add to the work. This will continue throughout the afternoon with each of us going home with the original piece we started with, only altered, enhanced and embellished by our group. Open to all skill levels.
Fri/Sat/Sun July 10, 11 & 12 1 -5 $35 daily (bring your picnic lunch to enjoy on the deck, come any time after 11, eat & take in a walk before activities)
Participate one or all 3 days, each will be a unique experience, various outcomes, to be determined by those attending.

Friday July 10 registration

Saturday July 11 registration

Sunday July 12 registration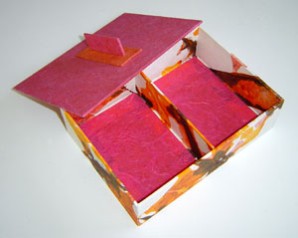 Box with Dividers, by Ben Rinehart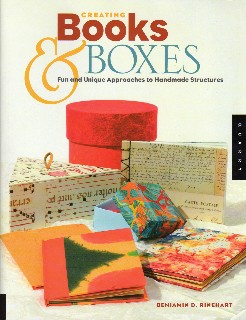 Books & Boxes book cover
Boxes With Drawers & Dividers
Ben Rinehart

In this two day intensive workshop, learn how to make a single box structure that has a sliding drawer and dividers to hold your most treasured items. Bring in any ephemera to use for closures or embellishments for a personal touch. Even if you have made books or boxes before, this class demystifies the problems that commonly occur. Bookbinding techniques of folding, cutting, covering, insets, chiseling into boards and building in three-dimensions is discussed in detail. Additional structures may be explored with time permitting. All levels welcome! Limit 10

Sat/Sun, July 18, 19 10-4 $175/$15 materials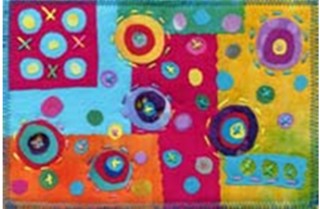 Postcard Play Amy Climer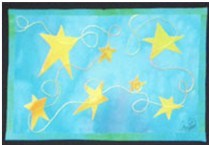 Postcard Play Amy Climer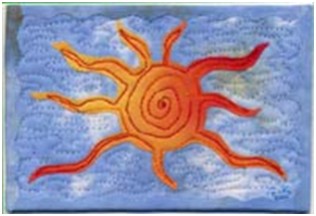 Postcard Play Amy Climer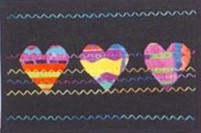 Postcard Play Amy Climer
Postcard Play Amy Climer
Fabric Postcards! Be the first to send one to your friends. Everyone loves getting postcards, especially when it is art! In this three hour workshop students will learn the fast, fun technique of fusing, including making a fused binding. The small size of the quilt allows fearless experimentation. Course fee includes a first class stamp to mail your artwork to a friend!
Wed July 22 6-9 pm $55/$5 materials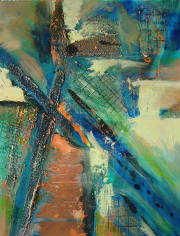 Experimental Acrylic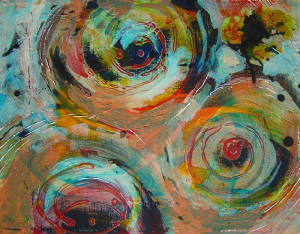 Experimental Acrylic
Experimental Acrylic
Kay Brathol-Hostvet
An intense, thought-provoking workshop experience! Focus on the application of acrylic paint in creating non-representational works based on technical experimentation, emotional and cerebral responses to design and color exercises, journaling, music interpretation and group discussions. Painting experience in any medium is helpful. Students have called this workshop "life changing."
Fri, Sat & Sun, July 24, 25 & 26, 9 - 4
Held in conjunction with UW Extension Continuing Education
IMPORTANT: Please register with UW Extension, registration begins April '09

Limit 12; Enroll by July 16 2.0 CEU, $225, Program #2511/10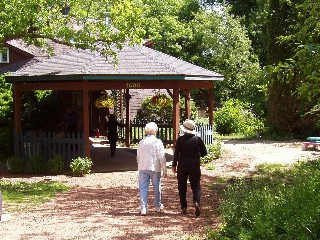 Relax, Learn & Share
A Retreat for Women Living with Heart Disease
lead by Bonnie Schmidt

As heart sisters we readily share the exact date and time of our event(s), our diagnosis, and our procedures. We know by-heart our treatment plans and the many ways we are or should be taking care of our heart health. All are physical aspects of living with heart disease. What is more difficult to know, recognize, and to share is what having heart disease means for us emotionally and spiritually.
Join other heart sisters in a retreat that will explore the emotional and spiritual aspects of living with heart disease.
Whispering Woodlands, is a tranquil natural setting in which to relax, learn and share with others. This peaceful and supportive environment will allow you to explore the many aspects of yourself and what it means to live with heart disease.
July 30/31 Thurs 7 - 9 pm & Fri 9 - 4 $65 includes light snacks & beverages
*Click below for seperate registration and information*
Womens Heart Retreat Registration/Information PDF file
A u g u s t

Wet, Wild & Refreshing: Papermaking
Jackie Hefty

During the 'dog days' of summer, what better artistic activity than a wet, wild and refreshing weekend of papermaking. Good clean fun with many artistic possibilities. You will be immersed in the paper making process from start to finish. Learn techniques of pulp preparation and sheet formation that you can do at home, requiring a minimum of supplies and equipment. Explore pulp painting, embedments, stenciling, pressing, drying and more. Suggested items to bring from home, available upon registration, allow you to Recycle, Reuse or Repurpose, join us as we explore the possibilities of this Green art form.
Sat/Sun Aug 1 & 2 10- 4 $145/$15 materials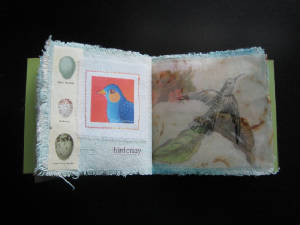 Metal cover fabric book - page using organza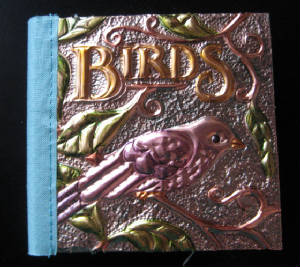 Metal Tooling Bird Book Cover
Copper & Canvas
Mixed Media Artist Books
Judy Coates Perez
As seen in Cloth Paper Scissors & Quilting Arts Magazines and their online newsletter!
Create a unique mixed media book using canvas, paper, paints and copper in this fun and informative workshop.
This workshop will teach you a variety of techniques for turning plain canvas and metal scrim into a pocket sized artist book, as fun to design as it is beautiful to display. Mixed media applications include collage, fabric transfer, and sewing, as well as creating drawn and painted images for your book. You will also learn techniques for embossing metal and adding color to the finished design with alcohol inks.
A "Creative Metal Beginner Tool Kit" will be provided courtesy of Walnut Hollow.
Sat/Sun, August 8 & 9 10 - 4:30 $265/$10 materials

Needle Felted 'Painting' by Briony Foy
Needle Felted "Painting"
Briony Jean Foy

This class originated at the request of students who took Briony's first Needle Felting workshop but was designed for beginners or more experienced crafters. We'll review or summarize the basics of the technique and design theory, and then spend the rest of the workshop composing and "painting" with yarns and rovings. Create a landscape, portrait or abstract composition that you will be proud to frame and display No experience necessary or can be a good review. Supply list available upon registration. Sat/Sun Aug 15 & 16 10- 4 $175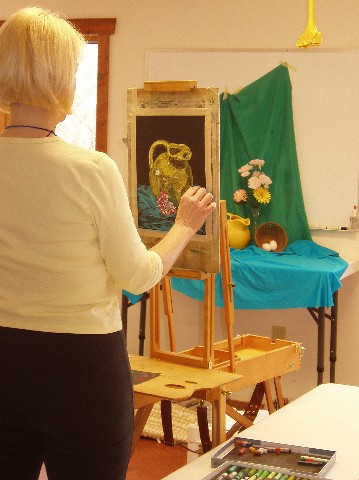 Pastel Drawing
Art of Drawing
Kay Brathol-Hostvet
Drawing is the foundation for all the visual arts. This two-day workshop is for those who want to develop better drawing skills and gain more pleasure in the drawing process. There will be basic lessons for beginners and challenges for more advanced students. Kay says "I can't stress enough the importance of developing drawing skills-even for those who are primarily 3-D artists. A lack of drawing skills often relates to a lack of understanding of spatial concepts, and with problems with 'vision' - the ability to create in artwork what is in one's imagination." Kay will help you to expand your abilities and develop an individual drawing style, learn ways to loosen up, learn to see and measure accurately, and learn some principles of perspective. We will explore gestural and expressive mark-making, exaggeration or distortion, and co-operative drawing using the basic drawing tools of graphite, charcoal, pen, and ink. Class size limit: 10
Fri/Sat, Aug 21 & 22 9-4:00 $145 / $5 material fee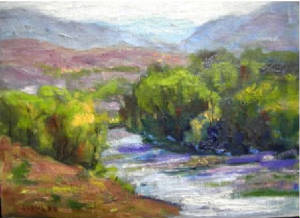 Landscape Painting by Tina Duemler
Introduction to Plein Air Painting (Water miscible oil paints)
Tina Duemler
Using water miscible oils or acrylics, this two day workshop will provide an introduction to the appropriate materials, techniques and approaches to painting outdoors. We'll start indoors becoming familiar with the basics and then venture outdoors to apply what we learned. Additional topics covered include; dealing with light, composition, color, mood, and expressing your individuality in your painting. Develop an approach to working outside that you take with you, can apply at home and in other locations. No solvents please, only water miscible oils or acrylics. A supply list will be posted. Appropriate for the beginner or those looking for those looking for a new approach to painting.
Sat/Sun Aug 29, 30 Sat. 10-4 and Sun 1-7 $165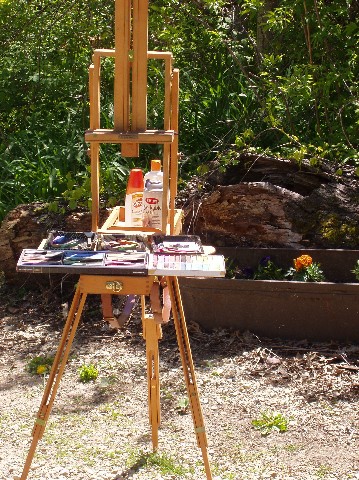 What's missing here? You!
Additional Autumn workshops to include:
Mosaics Weekend with Megan Cain TBD
and more...
We look forward to having you join us here at
Whispering Woodlands
soon.